Monk is open from 7 am to 5 pm
Due to the current corona measures, Monk closes at 5 pm. We'll start earlier than usual in the coming weeks. You can now start bouldering every day at 7am.
Always keep 1.5 m distance and wash your hands before and after bouldering. A facemask is mandatory inside, unless you are exercising or have a seat in the cafe. From the 6th of november, you will need a valid corona entrance pass (QR code) for sportaccomodations.
Opening hours
Opening hours Monk Eindhoven, Monk Amsterdam and Monk Rotterdam
During the week: 7 a.m. – 5 p.m.
On weekends: 9.00 am – 5.00 pm
Opening hours Club Monk
Every day: 12.00 – 17.00 hrs
These adjusted opening hours apply until at least 19 December.
Bookings
You can book a slot in Toplogger. If you already have an account, you can choose a moment of checking in under 'Reservations'. You can book up to 10 days in advance, for yourself and two others. Don't forget to cancel your booking if you can't make it.
You can have three active bookings (trainings do not count toward a booking).
Monkshop
You can come shopping without an appointment, we are there every day. Online shopping was already possible and still possible!
Changing rooms and showers
The changing rooms and showers are open.
Monk training and workout
We are currently busy changing the schedule for our training and workouts. Almost everything will be scheduled during our temporary opening hours. We arranged some extras as well. Read the most current news from your location in the text of your location page: Eindhoven, Rotterdam , Amsterdam and Club Monk.
Check the new training schedule for youth: Eindhoven, Amsterdam and Rotterdam.
We hope to see you again soon!
Kind regards,
Team Monk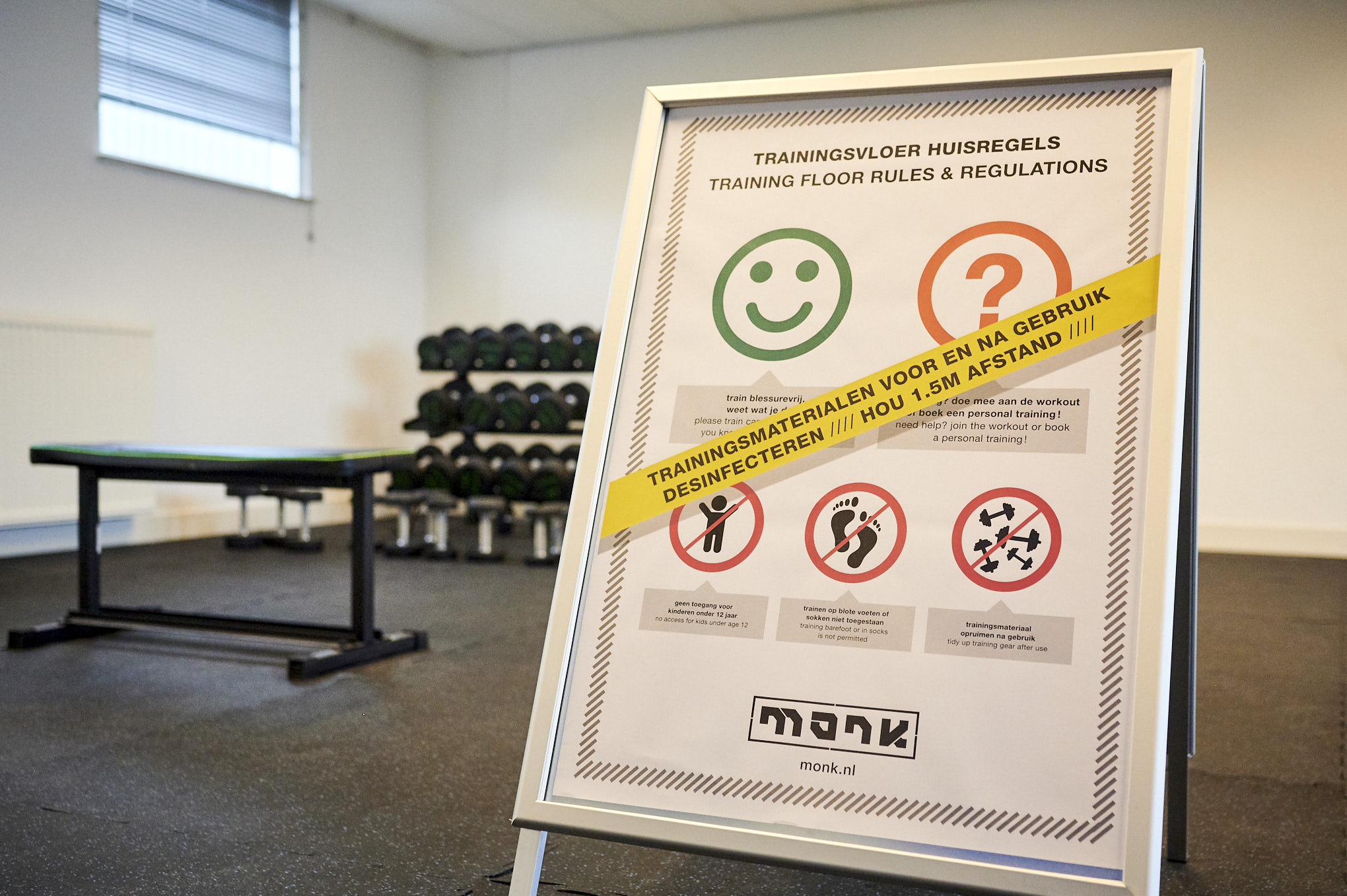 Monk is the first boulder gym in the Netherlands, with locations in Eindhoven, Amsterdam (North and the club), and Rotterdam. Bouldering in a gym means climbing walls with a height of up to 4 meters. Without a rope above thick mats to catch your fall. You use your flexibility, strength, and balance to resolve problems. There are over 200 climbing routes, called 'boulders', in our gym, which we regularly replace to make sure you always have a challenging session.
Bouldering is fun and easy to get started with (and slightly addictive). There are no prerequisites to get started. Every week you can join our Boulder Basics introduction to the sport (participation is free once you pay the entrance fee). No rope, no partner, and no harness required. Don't forget to make a reservation in Toplogger. During your first visit, we give you safety instructions and explain the house rules.
What do you need?
Bring clothes that allow you to move freely. You will also need a pair of climbing shoes (sneakers are not allowed on the walls). Rental shoes are available at the reception. Monk has dressing rooms, showers, and lockers for you to use.
Kids from the age of 6 and older are welcome to boulder at Monk. Children younger than 12 must be supervised by one adult person per two children.  Children from the age of 12 and older may boulder without supervision. 
Curious if bouldering is the sport for you? Join one of our try-out lessons for youths. Register in advance (obligatory) to join:
Sign up for a tryout in Eindhoven
Sign up for a tryout in Amsterdam-North
Sign up for a tryout in Rotterdam
You can't sign up for a tryout at the club. The boulders in this gym start at the intermediate level.
In order to ensure that everyone enjoys their visit to Monk bouldergym, we have compiled a set of house rules, listed below for your safety and comfort. Any violation of these rules can lead to expulsion and/or cancellation of membership, without reimbursement of admission or membership fees.
Make a reservation in Toplogger to plan your visit
Sign in when you arrive, sign out when you leave
 Ensure you are familiar with our Terms and Conditions
Boulder safely and responsibly: follow our Bouldering house rules
Use the designated changing rooms
Always comply with instructions given by our staff members
No glass or crockery outside the bar area
Only food and drink purchased on the premises may be consumed here. Only sealable drinking bottles are permitted
Smoking is not permitted
No pets allowed
Bouldering house rules
Check your age:
Bouldering not permitted 0 – 6
Only under supervision (18+) 6 – 12
Independent bouldering permitted 12+
Boulder safely and responsibly
Sitting, lying or playing on the mats is not permitted
Keep a safe distance (1.50m) from other climbers on the wall
Climbing or standing on top of the walls is not permitted
Don't wear jewelery
Do not drink alcohol before or during climbing
Keep it clean and tidy
No chalk bags on the mats or tied round your waist. Use chalk in moderation!
Climbing shoes are required on the wall
It is obligatory to wear socks with rental shoes
Climbing with a bare torso is not permitted
Your understanding and cooperation is much appreciated.
Have fun climbing at Monk!
Check our opening hours here. Please sign up online in advance of your visit to save time at the reception.
Do you want to boulder at a quiet time? On above pages, you'll also find our peak hours.
normaal
< 25 years
< 18 years
Single visit
€ 11,00
€ 10
€ 8,50
Rental shoes
€ 4
Multi-visit pass (10X)
€ 99
€ 90
€ 76,50
Month pass*
€ 73
€ 68
3 Month pass*
€ 175
€ 161
* purchase is non-refundable
Monk membership prices
With a Monk membership, you get unlimited bouldering for a fixed monthly fee. Additionally, there's a 10% discount on all shop purchases (online also).
Our membership prices:
standard membership

€ 47,50 per month

under 25

€ 43,50 per month

under 18 € 40,50 (including training) per month
youth 6 and 7 € 32 (including training) per month
Family discount 20% (only valid for youth members).
Membership conditions
Payment is only possible by direct debit
Minimum duration of membership: month of registration + 3 months
Term of notice is 30 days
Monk is closed for 7 days per year (maximum)
The minimum age for bouldering at Monk is 6 years

You pay your entrance fee per visit, regardless of the duration thereof

A multi-visit pass gives you a 10% discount on 10 bouldering visits

A month, 3 month or membership pass allows you to visit as often as you like