Job vacancy chief route setter Eindhoven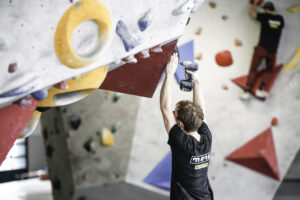 Online since: 22-06-2021
Status: open

---
company: Monk Bouldergym

location: Eindhoven

hours per week: 20 – 32
---
Get in touch with Bruno if you want to know more about the job. You can also send your application to him.
Contact:
Bruno Geurts (location manager Eindhoven)

We're looking for a chief route setter for Monk Eindhoven. An experienced setter and hardcore boulderer. Someone who is passionate about route setting and who always pushes not only themselves, but the whole team to the max.     
Monk.
Monk began in 2008 as the first Dutch bouldering gym and is now the home ground to thousands of boulderers in Eindhoven, Rotterdam and Amsterdam. We are passionate. Our routes are characterful and timeless, built with knowledge and expertise. Monk routes cover all sides of the spectrum; from old-school to new-school. We are inspired by Bleau and Brione, but we also love competitions. Our boulders are pure and functional, without bullshit and accessible for everyone. Always smooth and on-point, right down to the last detail. You won't get far without good technique at Monk.
We build full throttle, and all week long. A 5A gets just as much love as an 8B. We build for our visitors and get a kick out of challenging them and helping them succeed. We make sure they love bouldering just as much as we do.
The job.
You are responsible for the setters and routes at Monk Eindhoven, ensure the safety and quality of the routes and guarantee variation in the circuits. 
Together with your team of route setters, you set up a tight schedule and maintain a high standard for our routes. You work on the circuits, the training wall and competitions (local and national) in the hall. You make sure your team fixes the right boulders at the right times and that the walls always look smooth and fresh. 
Our setters are pro's. We put a lot of energy into training our route setters, and as chief you play a leading role in their development. You are responsible for recruiting and mentoring new setters and make sure they receive the support and experience they need.
Monk is a company on the move, and this position offers plenty of opportunities for further growth and career development. Once the team of setters in Eindhoven is running smoothly, you can extend your job to include the other Monk locations.
What we're looking for.
Bouldering is in your blood. Alongside your experience as a route setter, you are deeply rooted in the climbing world. You know all the hold brands, follow competitions, are up with the latest developments and have a wide network. You're keen to keep reinventing yourself as a setter. You can share your experience and knowledge with your team and know exactly how to get the right vibe going.
You have 3+ years of experience as boulder setter

You have experience in setting routes for competitions.

You recognise your own values in the quality and style we aim for in our routes.

You have experience leading others.

You work well in a team.

You have good planning and organisational skills.

You have 5+ years of bouldering experience and can climb at a level of 7C or higher.
What we offer.
A (permanent) contract for 20 to 32 hours per week.

A competitive salary.

A good pension scheme.

A job with plenty of opportunities for growth and career development.

The chance to expand your working activities to include the other Monk halls (Amsterdam, Club Monk, Rotterdam and new halls in the future.)

Working with a team of bouldering fanatics and enthusiasts
Want to join the Monk team?
Send an e-mail with your motivation and CV to Bruno (location manager Monk Eindhoven). Applications can be submitted until Friday 23 July. More questions about the job? Send us an e-mail, or give Bruno a call. We hope to hear from you soon.
Deel en verdien € 50!
Ken jij iemand die geknipt is voor deze baan? Deel deze vacature! De gouden tipgever krijgt van ons € 50 Monkshoptegoed. Dat is mooi meegenomen, niet?
De Olympische Spelen zijn gestart. Klimmen is bijna aan de beurt en volgens onze locals moet je deze atleten in de gaten houden.
Meedoen aan de Olympische Spelen is weggelegd voor de allerbeste klimmers ter wereld. Je moet er veel voor opgeven, hard trainen, en zenuwen van staal hebben.
In deze blog leggen we alles uit over boulderen op de Olympische spelen. Ook vind je er kijk- en luistertips voor als je meer wilt weten.